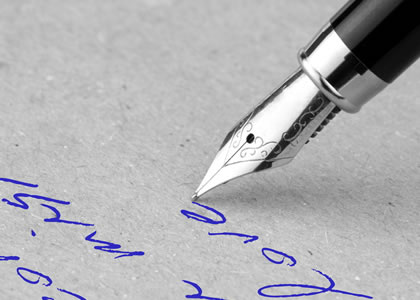 GERMAN HANDWRITING: HOW TO IMPROVE YOUR HANDWRITING
WELCOME – IMPROVE YOUR HANDWRITING?
'How to Improve your Handwriting'. For the benefit of students who are following this course in English, this website has been very freely translated, altered and abbreviated in some places, with some parts omitted, as they are not considered relevant to those whose first language is not German,
So – Welcome! Handwriting is a private matter, but – as with training for a sport – it needs practice. Walking and running come naturally. But for most sports, there are techniques that have to be learned and practised.
Drawing and scribbling come naturally to children. But they have to learn handwriting with joined-up letters, and it takes practice. Mostly children learn the script that belongs to their particular culture: Japan, Russia, Thailand, Middle Eastern Countries and Greece all have a different script from Germany. In Europe, the Latin cursive script is widely used, as in Great Britain.
In this tutorial I set out a course which teaches the modern 'Latin' cursive handwriting script, letter by letter. You can follow this tutorial on your screen and, in time and with practice, you will be successful in developing your own individual handwriting style, which will be fluent, distinctive and legible.
This tutorial can be downloaded or printed free of charge:
Tutorial for German Cursive Handwriting
I wish you pleasure and success as you work with this course
Margarete Mücke