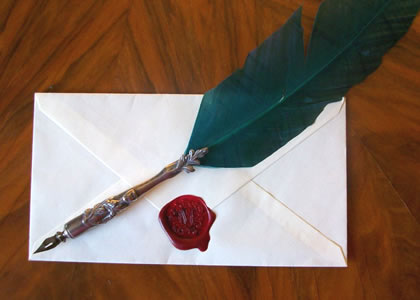 WHY BOTHER?
Who needs handwriting nowadays? Just think about your private life for a moment in a world of smart phones and computers. I hope you will agree that it's just discourteous and inappropriate to send very personal news by text. And how easily texts can be deleted or lost! A few years ago on a train I discussed this with a student. She told me that, every evening, she was transcribing all the texts sent by her absent boy-friend into her diary. In this way she was able to read his thoughts again and again, which flowed straight from his heart on to his keyboard. How would you write a true love letter which your partner can carry about and cherish every day? It needs to be written down!
Also, in everyday life there are many occasions when you want to add a few personal words in your own hand: Cards with : Greetings and congratulations on birthdays and similar celebrations: Postcards: Get well cards: Words of condolence.
And how do you write to children or much loved relatives? Surely not by printed letter!
The writing paper is also important and adds value and emphasis to your words. I hope you agree that personal letters should never be written on a sheet torn out of a ring-binder or from a pad!
When working in an office, it is not enough to have a highly distinctive signature to append to printed letters from a computer! Good and fluent handwriting is also a very important asset in almost every job.
When you apply for a job, you will often be asked for a handwritten application, probably including a description of why you think you are the right person for the job. And in many offices, the trainee is required to keep a daily work-book or fill in forms which must be done by hand – and they must be legible! Think, too, of the forms you have to fill in for medical purposes, official forms, passport applications and the like, or to file a report following an incident.
You may have to present seminars or workshops, and it is embarrassing when text written on a flipchart is illegible!
If you want to make your handwriting as good as possible, this course offers you the opportunity to write fluently and legibly in a cursive ('joined up') script which is now used in all German speaking countries.
You can download it free, or print it from a pdf.