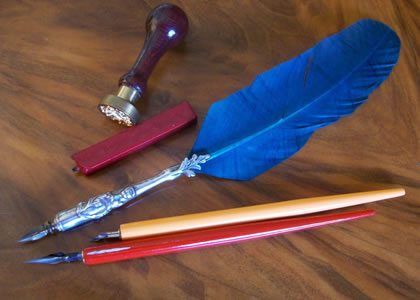 MATERIALS REQUIRED
a. Materials for handwriting and facilities for printing pdf documents
b. Writing material both with and without lines which can be printed as pdf documents
c. Lined writing paper which you can print from a pdf documents. This is useful for placing underneath unlined paper as an aid
d. Writing block with four guidelines to each line of script. This will not be familiar to most English speaking students but can be obtained from German stationery shops catering for 1st school year children.
e. A fountain pen (inkpen).
f. The tutorial can be downloaded as a pdf and printed free of charge under
www.handschrift-optimieren-muecke.de
ABC-Vorlagen 1 und 2: "Lateinische Ausgangsschrift"
The way children are taught to write varies in Germany from county to county, which is why I recommend students to go back to the beginning and (if you were taught in a German primary school) relearn cursive script letter by letter; how letters are joined up; and how much space to leave between words. This will give your handwriting a good appearance and legibility.
You may well need to practise handwriting as your hand muscles may not be used to hold a pen. Keep your hand loose and avoid cramp. If you want to follow this tuition I very much recommend that you use lined paper. Buy writing blocks or pads suitable for first year school children. Office paper doesn't always have a smooth surface and may make smooth writing with an inkpen difficult. Buy a writing block with one bold detachable lined paper which can be positioned under each sheet in turn.
The Fountain Pen (inkpen).
Please write with an inkpen. It doesn't need to be an expensive one. Any school pen will do. Find one that suits you best. Later you can decide according to your personal taste which type of nib suits you best. Left handed students can obtain special pens. While following this tutorial please don't use a ball-point pen as they are more difficult to control and can slip.